FEMALE ATHLETES! THIS IS YOUR OPPORTUNITY TO...
Level-Up As An Elite Athlete in Your Sport

Elite athletes train their minds like they train their bodies. Give yourself a competitive advantage and allow your hard work to pay off by having the skills to perform well under pressure, remain calm in the chaos, and play past your limits. Be a better ATHLETE and a better YOU by training your mind first.
I recently talked all about this on a special podcast episode that I made JUST FOR YOU as a female athlete.
And here's what other female athletes have to say...
Before I Give You The Full Scoop, Let's Quickly Chat About Who This Is Really For…
Give Me A Nod If You Feel Like Any Of These Athletes Did, Even if Others Don't Notice:
👉🏻 "I lack confidence at times, and my height makes things more difficult." - Kate
👉🏻 "I had an injury and now I get nervous to tumble, and when I didn't have an injury I would play down my skills." -Emmy
👉🏻 "Sometimes I give up on my self! If I don't do things perfectly I get frustrated or say mean thing to myself!" - McKenna
👉🏻 "I'm just really hard on myself and I get nervous because I don't want to mess up." - Piper
👉🏻 "I'm challenged with making mistakes and overcoming them, getting down on myself and I'm not sure how to deal with it. Sometimes I get so frustrated I start to cry, not on the court... I hold it in." - Sara
👉🏻 "Some challenges I face are wanting to be perfect, getting really negative when I make a mistake, and sometimes confidence." - Alexa
👉🏻 "I get really nervous before a tournament because I'm scared about losing." - Maddy
👉🏻 "I've been told I'm not loud enough, that I'm too shy and lack confidence, and that those things are keeping me from making higher teams." - Olivia
👉🏻 "Fear of messing up. Perfectionism. Fear of what others think." - Hallie
👉🏻 "Performance anxiety" - Emma
👉🏻 "Worries about what teammates are thinking and also self trust on the field." - Maya

Your nod actually tells me that you already know your mental game is to blame. And it's not your fault. The mental game is often not taught or coached!
I hear these same struggles from all the female athletes I coach, even the most elite!
You may be like many female athletes who feel like they "get in their own head" and can't get out.... even though they try.
They feel like they play well in practice, but not as well in competition.

They feel like they always have to prove themselves to their coaches, teammates and parents.
They want to be that go-to player on the team, but struggle in the pressure situations and are afraid to let others down.
Many want to play in college and have the skills, but just aren't performing to their potential and getting the looks they need.
And you could totally be like some who are absolutely crushing it, excelling on high level teams, exceeding everyone's expectations... and yet:
They know they aren't playing their top game!
They're always looking for ways to improve and know working on their mental game will help them reach the next level.
If any of this sounds like you, you are not alone. And you're actually in a perfect situation that can be turned into your biggest competitive advantage!
Sound good?? I knew it would! So, let's dig in...
I want you to picture this with me for a moment.

Imagine…
🌟
Being able to turn it on at game time.
You feel confident knowing that you'll play as well, if not better, than you do in practice.
🌟
Playing consistently to your potential.
Imagine playing with a level, clear head every time you compete. No ups and downs or overthinking. Just playing free and in the moment.... and actually loving your sport again.
🌟
Overcoming mistakes and perceived 'failures' in a snap.
You quickly recover from the big and little mistakes that used to derail your performance. You no longer worry about making mistakes because you know that's how you'll improve.
🌟
Feeling confident & secure in yourself as an elite female athlete.
Imagine the freedom you feel when the thoughts and opinions of others don't impact you. You're focused on yourself and what you can control instead of what teammates, coaches, or anyone else thinks.
🌟
Coming in clutch when it counts.
Imagine that you are the one your team goes to when the game is on the line. You thrive under pressure and live for the tight moments. You're confident in your abilities and help lead your team.
🌟 Your biggest goals are coming to life.
Your skills and level of competition are gaining looks from elite teams, colleges, and more. You are playing at a level that catches the eyes of coaches and recruiters and this motivates and excites you to keep leveling-up.


This is all possible for you.


Play free.
Love your sport again.
Make the high school team.
Get recruited to play in college.
Feel proud of how you compete.
Love your amazing self.
Have no regrets.
Play all out.

All athletes face similar situations as you.
But not every athlete will take advantage of the opportunity to make something out of it!


All athletes face pre-game nerves, thoughts of not being good enough, worries about how they measure up and not letting people down, struggle to overcome mistakes, and more.
The ones with the competitive advantage know how to navigate these situations. They have skills and tools to use to help them play their best in spite of these challenges.
You can level-up, stand out, and enable elite performance by turning your mental game into your biggest competitive advantage!
If you're smiling right now at the thought of your new competitive edge and how freeing this will be...
THEN THIS PROGRAM IS FOR YOU:
The Elite Competitor Program

This program is your complete system to level-up your performance, gain a competitive advantage, build confidence, and allow all your hard work to pay off... by having the skills to perform well under pressure, remain calm in the chaos, and play well beyond your perceived limits.
Here's what the buzz is all about...
"I am very confident in myself now.

I can't even remember what it was like before having this program..

."
"You both have helped me so much. I am very confident in myself now. I can't even remember what it was like before having this program and having things like my hype number, my reset word, and just getting past mistakes quicker. Thank you again!"
-Mikayla (16), Volleyball
"This program helped me... I realized I wasn't alone."
"[Before The Elite Competitor Program], it was hard for me to forget my mistakes and move on from the past, I would blame myself a lot. The program helped me with these challenges because I was able to realize that I was not alone. [ECP] helped me see how to fix my problem and why I was having those problems."
-Jenna (15), Volleyball and Equestrian Team
"
My confidence has boosted in myself because I know how to get over mistakes.

"

"My biggest transformation from the program is learning how to get over mistakes. Another one is how to not have perfectionism. My confidence has boosted in myself because I know how to get over mistakes.

My favorite part of the program was having access to talking with Breanne and updating her on my sports career or asking her questions on anything."

-Emma (13), Basketball, Volleyball, Swim, and Track Athlete
"...
learning and practicing skills to build my mental muscles are equally important as building muscles in my body.

"

"As a gymnast, I learn and practice new skills, routines, and conditioning for 16 to 20 hours each week to strengthen my muscles and train my body to do flips and find balance. The Elite Competitor Program helped me recognize and appreciate that learning and practicing skills to build my mental muscles are equally important as building muscles in my body.

Also, I learned how to re-package the way I receive feedback from others, and I am choosing to hear feedback differently. I learned how to receive feedback like a gift given to me, sometimes wrapped up pretty with a bow or a plain paper bag. I am choosing to hear and receive feedback in any form as building blocks to help me improve my gymnastics skills."

-Melissa (13), Elite Gymnast
Let's take a look at what's inside each week of

The Elite Competitor Program

...
You'll learn right up front what's possible for you as you complete the work inside this program. We explain why our method works so well and the types of results you can expect in your sport... and life!
Next, you'll start discovering the athlete you truly want to be... that's just waiting inside for you to release her! You'll also learn how to better accept support from your parents and others to help you reach your goals.
In week 2 we set big dreams, intentional goals, and get out of our comfort zones in order to grow. We start to scratch the surface of how powerful our minds are and begin new habits and routines to move us towards our vision! You'll even make your own vision board!
Next, we take a deep dive into how our thoughts lay the foundation for all the results we get in life. We learn how to access our subconscious brain through visualization, affirmations, mindfulness, and breathing so that we can create the results that we desire.
Building off of week 3, we dive into the thoughts that hold us back. The ones that have been so ingrained in us, that sometimes we aren't even aware of them! We learn how to identify limiting beliefs and change the story for ourselves to get closer to our goals!
In week 5, we discover the link between confidence and our moment to moment inner dialogue. We take inventory of your own self talk - what's working, and what's hurting your performance. And then learn the four types of self-talk needed to develop confidence on and off the court!
You'll learn to reframe failure as something that is bringing you closer to your goals rather than further away. You'll uncover the situations that derail you the most in your performance. And then learn and implement a failure recovery system that allows you to bounce back from mistakes in seconds!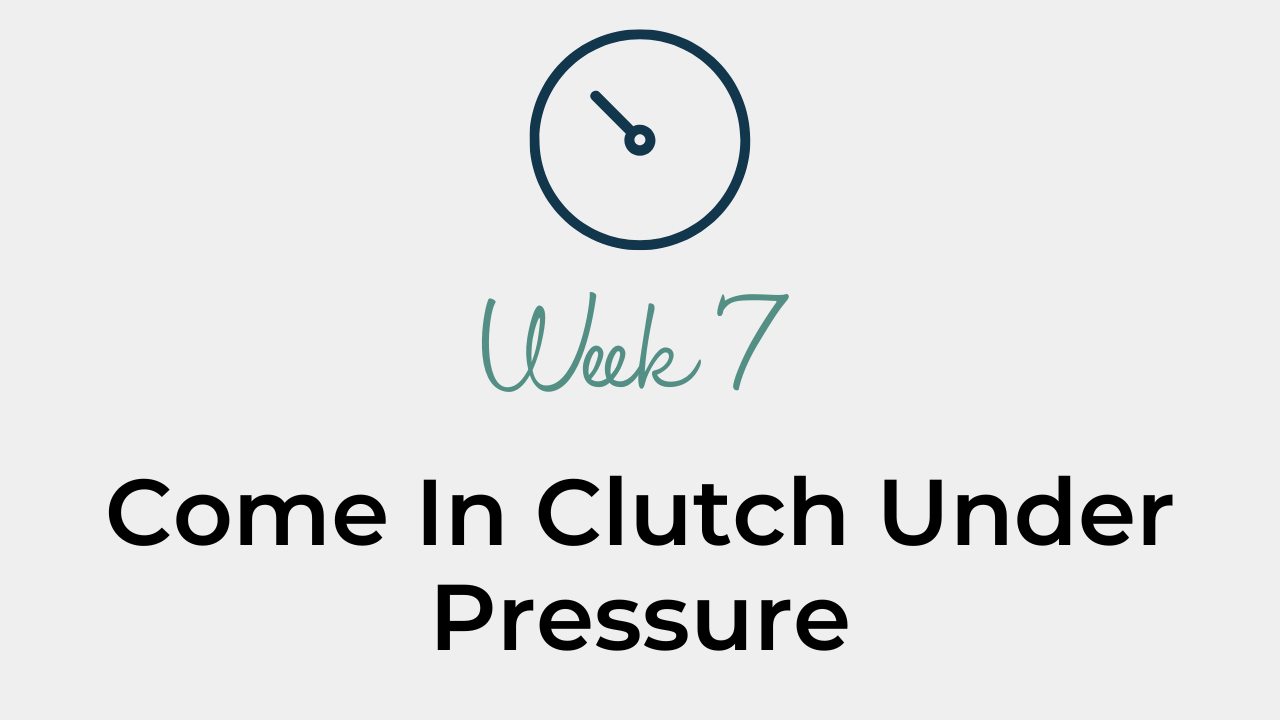 In week 7, we establish pre-game and post-game routines as well as identify your "hype" number so you're at the right level of hype before stepping on the court/field. Then, turn pressure into motivation with specific strategies to handle nerves and to ensure consistent performance every time you play.
You'll discover what causes perfectionism and identify signs of perfectionistic tendencies. Then you'll understand the difference between perfectionism and having high goals and standards. And learn the steps to achieving a healthy relationship with striving without having to rely on perfectionism.
If you compare yourself to others... congrats, you're normal! During week 9, we learn that it's not about whether or not we compare, it's about what you do with it! Comparison and jealousy can actually be useful in pursuit of our goals - it all depends on how we frame it. You'll learn how to turn comparison into motivation.
You'll discover how to reframe stress as a key to becoming a resilient athlete. Then, learn the process to navigate stress in a healthy way so you can perform consistently and tackle anything that comes your way. Finally, you'll create your own game plan to relieve stress and and allow it to lead you closer to your goals.
Over the 10 weeks inside the program, you will make tremendous strides! Most athletes see a shift pretty immediately. The great thing about this material is that it grows with you... as you encounter new challenges and level-up in your sport, the learnings will mean something new to you. We talk about how to revisit the material and how to continue incorporating the learnings and developing your skills.
All Modules & Replays within...
A Sleek Membership Site Accessible on All Devices
We asked the athletes which module was most transformative. Here's what a few of them said...
We can't wait to hear which one is the most impactful for you!
You too can experience what other athletes are already loving...
"I am much more confident in my abilities. I've also noticed how my thoughts have become a lot more positive when doing workouts and other hard challenges.
I would tell others players to join this program. It doesn't just help for volleyball, but also in other aspects of your life. It has helped me to improve my mindset and my confidence in myself."
- Amanda (16), Volleyball Player
"Mindset coaching helped me feel more sure of myself and better able to combat negative self talk, recognize when my mindset was slipping and stop it. I've gained strategies to keep my mind at peak performance which has really helped me practice harder and learn more from every rep. My confidence is more rooted in the process of improving rather than outcome, playing time, etc, and thus more consistent."
- Alicia (19), Volleyball Player
"My biggest challenge [coming into the program] would have been my mindset controlling my actions. I let walls that challenged me stop me instead of working around them.
The Elite Competitor Program has helped me find better ways to deal with negative thoughts and have different ways to calm my mind.
My biggest takeaway from ECP is that I feel more confident in my mentality and am ready to take it onto the court."
- Bekah (19), Basketball Player
Frequently Asked Questions
What other female athletes were wondering...
Who is The Elite Competitor Program for?
How much time commitment is The Elite Competitor Program?
How does The Elite Competitor Program work?
A quick message from Breanne...
This program is basically everything that I wish I would have known when I was growing up as an athlete... struggling with confidence, being way too hard on myself, and letting one mistake derail me for the whole match.
Now, as a previous collegiate athlete, a head volleyball coach, and a certified Elite Performance coach, I am honored to work with so many female athletes.
I'm grateful every single day for the opportunity to serve young women just like you and have an impact in their lives.
Cheering for you always!
~ Breanne
P.S. If you have any questions for me, just send me a note at [email protected] or a DM on Instagram @elitecompetitorcoach.